MBA IN INTERNATIONAL HOTEL MANAGEMENT

An MBA degree in Hospitality and Tourism Management to become an authentic leader in a vibrant industry.

LOCATION
Courses taught on our campuses in Bordeaux (France)

LANGUAGES

DURATION
INTERNSHIPS
CREDITS
120 ECTS (European Credit Transfer System)
INTAKE
Education goals
Build on your previous experience and develop your analytic and decision-making skills. Learn to innovate and adapt in a challenging environment with our MBA in International Hotel Management.
> MBA success rate in 2022: 91,4%
> MBA employment rate of the 2022 graduates : 91,2% (to learn more)
> 

WSET 2 success rate in 2022: 97,62%
> 

WSET 3 success rate in 2023: 25%
PROGRAM HIGHLIGHTS
MBA IN INTERNATIONAL HOTEL MANAGEMENT

Join the 1st Worldwide Business School Group in Hospitality and Tourism Management with a strong network: 9,000 students, 53 campuses & 42,000 alumni
MBA in International Hotel Management (French State Certified Degree level 7 RNCP)
Gain managerial, sales & technical skills in the hospitality industry: Corporate & Hospitality Strategy, Entrepreneurship, Marketing Strategy…
Solve real case studies, submitted by our partners

Get a real hands-on approach: 98% of our lecturers are professionals in activity
Build and expand your network (company visits, guest lecturers…)
Finish your studies with a highly strategic 6-month internship, which often turns into your first job opportunity
> Satisfaction level of students on internships in 2022-2023: 8/10
Build your international career in this blooming Hospitality industry as there are so many jobs opportunities 
>  MBA Employment rate of the 2022 graduates : 91,2% (based on 90,5% of respondents)
(to learn more)
HOTELS, RESTAURANTS AND SPAS:
Hotel and Restaurant Director, Food and Beverage Manager, Front Office Manager, Concierge…
SALES AND MARKETING:
Sales and Marketing Director, Brand Manager, Sales/Export manager…
EXECUTIVE AND MANAGING BOARD:
Chief Executive Officer, Managing Director, Chief Financial Officer…
TOURISM, EVENT, BANQUETS AND CONFERENCES:
Event Coordination Manager, Tourism Manager, Communication Manager…
FINANCE, ADVISORY, HUMAN RESOURCES:
Human Resources Assistant, Accoutant…
Salary: about €39k within a year after graduation.
OVERVIEW OF COURSES
MBA IN INTERNATIONAL HOTEL MANAGEMENT
Main topics:
Year 1:
Operational Auditing
Financial Analysis
Corporate Strategy
Human Resources
Marketing Strategy
Economic Law
Taxation, Computer Sciences
Hospitality Strategy
Economy of Tourism & Hospitality
English
Spanish/German
Year 2:
Operational Management
Financial Management
Marketing Management
Human Resources
Management
Corporate Strategy
Foreign Language
VATEL MBA SPECIALISATIONS
Students can choose an MBA specialisation for their second year among 11 specialisations:
International Wine & Spirits Management (Bordeaux) – in French & English

Luxury Brand Management (Paris) – in French 
Revenue Management (Lyon) – in French 
Entrepreneurial Management (Nantes) – in French 
Events Management (Nîmes) – in French & English
Experiential Tourism Management (Reunion Island) – in French
Ecotourism Management (Madagascar) – in French
Resorts Management (Mauritius) – in French & English
Sales & E-marketing Management (Brussels) – in English
American Hospitality Management & International Business (San Diego) – in English
Finance & Project Development (Martigny) – in English
Find out more about our International Wine & Spirits Management specialisation here.
ADMISSIONS & FEES
MBA IN INTERNATIONAL HOTEL MANAGEMENT
To apply for the MBA program at Vatel Bordeaux, applicants must follow the application process available here and comply with the appropriate entry requirements:
• Direct Entry: Bachelor's degree in Hotel & Tourism Management or Bachelor's degree in Business, Management or Sales
• Preparatory Course / Foundation Year: According to your profile, you will need to register for one of these programs, in order to be admitted to the MBA
• To study in English: Equivalent to CEFR B2/C1: IELTS 6.0, TOEFL iBT 90, Cambridge CPE B2, TOEIC 945 points, CAE B2 or FCE Grade B
• To study in French: Equivalent to CEFR B2: DELF / TCF B2 (minimum) DALF C1 (recommended)
Mante Valotkaité - Alumni 2017
Sales & Event Manager at Relais & Chateau Stikliai Hotel - Vilnius, Lituanie
"I chose to pursue my MBA degree at Vatel Bordeaux for its international recognition as one of the best hospitality management schools in the world and because its study programme offered a perfect combination of theoretical knowledge and hands-on experience. After obtaining my diploma and having started a career path in tourism & hospitality, I can confidently say that my 3 years at Vatel Bordeaux have equipped me with the knowledge and the skills that are necessary to become a valuable and successful hospitality professional. Why should one choose to study at Vatel Bordeaux? First and foremost, for its competent teachers and lecturers who make the learning process interesting and relevant not only through theory but also with the help of case studies. Furthermore, this campus is a great place to experience what it means to live, work and study in the wine capital of the world (especially for those who are considering a career related to the wine industry!). Besides being one of the major tourist destinations in France, Bordeaux is also an ideal city for students – it is beautiful, rich in history & culture, dynamic and very convenient to get around (most destinations can be reached by foot, bike or a short tram ride). Last but not least, the school's administrative staff are kind, caring and devoted to making their students' overall study experience as smooth as possible. Thank you Vatel Bordeaux!"
Amandine Ollier - Alumni 2019
Client Manager at Plaza Athénée - Paris, France
"My MBA in International Hotel Management at Vatel Bordeaux allowed me to acquire knowledge in different fields such as finance or marketing, and also a certain hotel culture. In addition, thanks to the training in English I speak the language fluently today. My internships in different fields have given me a lot of experience, and have given me maturity and autonomy, which are essential qualities for working in the luxury hotel industry."
Tristan Bellinger - Alumni 2016
Senior Assistant Manager at Ashford Castle Hotel - Cong, Ireland
"My experience of the MBA International Hotel Manager at Vatel Bordeaux was very fruitful because this program was perfectly suited to my needs. Indeed, I came to Vatel with the idea of specializing my knowledge already acquired during my Bachelor "Business & Management" in the hotel and restaurant industry. Vatel Bordeaux was able to meet this main objective with a complete study program and perfectly in line with my knowledge already acquired. The diversity of the subjects and of the teaching team offers an openness and interesting, productive and professionalizing courses. The follow-up from the team during projects or during my internship was very important to me and allowed me a faster and more efficient personal and professional development."
Jeanne Alexandre - Alumni 2020
Human Resources Assistant at La Réserve Paris - Hôtel et Spa - Paris, France
"The strength of the Vatel Bordeaux MBA is that it offers a chance to students who do not come from a hotel sector to join this universe after a year of preparatory class. We thus evolve in a class with varied profiles which constitute a real richness in the training. The preparatory class allows you to practice all the hospitality trades. The MBA reinforces these practices through theory. The combo of professional practices and theory is for me a real asset in my job. It allows me to understand the daily missions of employees and thus adapt to the specificities of the different departments that are found in a hotel."
Match & Chat with a MBA in International Hotel Management student
From mid november, you can be put in touch with international students during virtual open days or on request.
He/she will be able to accompany you , answer all your questions and above all share his/here xperience!
Get in touch with the International Admissions department for more information.
ACCESSIBILITY
Our first priority: an inclusive sense of service
We are committed to offering a personalised welcome to our students with disabilities.
If you have a disability, please contact us so that we can help and guide you in your application and procedures.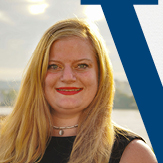 Bianca Bekker
International Recruitment & Admissions Assistant